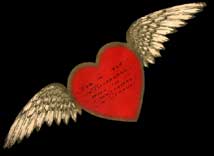 APPRECIATION and CONTRIBUTIONS
If you have been inspired by this exhibit and would like to show your appreciation, you can do so by making a donation to Rites of Passage. Rites of Passage (originally called AIDS Care and Assistance) was founded in 1988 as a not-for-profit agency and since that time has made many significant contributions in the fields of death and dying, AIDS and aging. We depend on both the generosity of others and the sale of our videos and posters to enable us to continue our work. Click here for donation form. For more information about Rites of Passage, please visit our website at www.ktc.net/ritesofpassage.

Purchasing our videos and posters is a wonderful way to offer support and benefit from the experience at the same time.You will find more information about our award winning videos on the subjects of death and dying, AIDS and aging as well as documentaries on such people as Elisabeth Kubler-Ross and Dannion Brinkley, by visiting our website. Posters from The Gathering of the Wisdom People exhibit and another on angels/terminally ill children are available also.